Hub Pass is an Orange Fab program aimed to support entrepreneurs' mobility.
No matter where your business opportunities take you, you will have available for free a workspace and meeting-rooms within our hub community all over the country. For example, if you are a TechHub member, when you travel around the country you can work from any community partner in Iași, Oradea or Timișoara.
This benefit is available for free to all the entrepreneurs part of the Orange Fab program and all members of the partner hubs.
---
For access, contact your hub manager or send us an e-mail at hellofab@orange.ro
---
Hub Pass Partners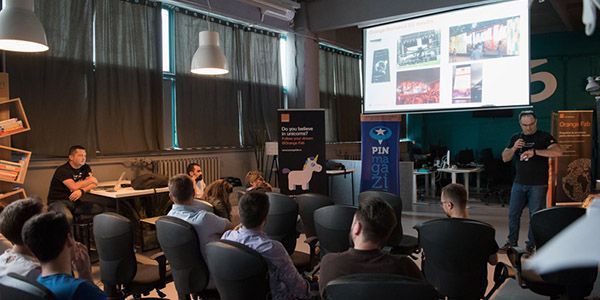 Fab Lab Iași
Fab Lab Iași has a surface of over 700 square meters and it offers different scenarios for flexible use of the space (competition areas, co-working, makerspace, teaching rooms, spaces for video conferences and personal desks). The space functions as an independent platform which brings together innovation and the tech community in Iasi.
Rândunica 2, Tex6, 700259, Iași
See on map >
Rubik Hub Piatra Neamț
Join the Rubik Hub community and enjoy the perks we offer: a bright coworking space, creative and collaborative, situated in the middle of the nature!
Rubik Hub is more than a physical place, it is an emerging community, built by people with mutual values, a desire to grow and a common vision: living in a world where each person can reach the best version of oneself and drive positive impact.
We develop and bring communities together to inspire, educate and accelerate startups to become global successful businesses.
Aleea Tineretului (Strand) 26, 610073, Piatra Neamț
See on map >
Cowork Timișoara
Cowork Timișoara is a coworking space opened in 2017 with the mission of helping entrepreneurs, digital nomads and other creatives find the perfect place to work.
The Garden - Virgil Madgearu 5, 300192, Timișoara
See on map >
Tineretului - Aries 19 - Casa Tineretului, 2nd floor, room 206, 300579, Timișoara
See on map >
Oradea Tech Hub
Oradea Tech Hub is all about the community🤝. We are here to empower passionate people about technology and creative works to develop innovative startups, exchange know-how, collaborate and build strong relationships. Find us in the Oradea Fortress! 🏰
If you need a place to find your inspiration, or just traveling through our amazing city, you are more than welcome in our coworking space. We bet you've never worked from a fortress before. 🤩
Let's meet and chat over a Nespresso cup of coffee! ☕❤
Cetatea Oradea, Building C, 2nd floor, room 5, 410520, Oradea
See on map >
---
If you have any questions about the Hub Pass benefits (as a member of Orange Fab or a partner hub), send us an e-mail at hellofab@orange.ro. You can use this benefit up to 10 days per month.